Information for the Traveller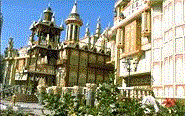 Humane Heritage Museum, Jeddah.
Visas

Contact the visa section of the Royal Embassy of Saudi Arabia in Prague.

Business Hours

Government offices are open from 7:30 a.m. till 2:30 p.m.; private businesses from 8:00 a.m. till noon, and from 3:00 p.m. to 6:00 p.m.; general banking from 8:00 a.m. till noon; markets and shops are open till 9:00 p.m. Government offices and private businesses are closed Thursdays and Fridays.

Restrictions

Forbidden items include alcohol, narcotics, weapons, ammunition, pork and pornography. Prescription drugs must be documented. Makkah and Madinah hold special religious significance and only persons of the Islamic faith are allowed entry.

Media

Some English radio/TV programming. Three English-language daily newspapers (Arab News, Riyadh Daily and Saudi Gazette).

Telecommunications

Telex and direct dial to/from most countries. Telephone country code for Saudi Arabia is 966. Codes for major cities are: Riyadh-1, Jeddah, Makkah, Taif-2; Abqaiq, Dammam, Dhahran, Hofuf, Jubail, Ras Tanurah-3; Madinah, Tabuk, Yanbu-4; Hail-6; Abha-7.

Time Zone

All of the Kingdom is under one time zone, Eastern Standard Time plus eight hours. During Daylight Savings Time, add seven hours.

Health Care

Modern public and private hospitals. Most prescription drugs are available.

Exchange Rate

Approximately 3.75 Saudi Riyals (SR) to the dollar.

Saudi Arabian Airlines

Flight schedule as follows: New York-Jeddah-Riyadh departs Tuesdays; Washington DC-New York-Jeddah-Riyadh departs Thursdays; Washington DC- New York-Riyadh-Dhahran departs Sundays. For reservations, call 1-800- 4SAUDIA. Saudi Arabian Airlines operates to 71 airports in 40 countries and covers a network of 24 domestic airports in Saudi Arabia.

Geography

The Kingdom of Saudi Arabia occupies four-fifths of the Arabian Peninsula-865,000 square miles. This is an area about the size of the United States east of the Mississippi River. Geography is varied. Forest, grasslands, rugged mountain ranges and vast deserts all characterise the Saudi landscape.

Climate

Weather conditions vary dramatically from one region of Saudi Arabia to the next. Very hot and dry conditions characterise the Rub Al-Khali ("Empty Quarter"), yet the verdant Asir highlands nearby are relatively cold and moist. The difference between daytime and night-time temperatures can exceed 50 degrees (F) during the summer in many regions of the country. During the winter months, overnight low temperatures approach the freezing mark at higher elevations.

People

Most native Saudi Arabians are descended from the land's indigenous Arab tribes. Saudi Arabia's population is approximately 16.9 million.

Religion

Saudi Arabia's official religion is Islam, which forms the basis of the nation's legal system. There are two major religious holidays; Eid Al-Fitr, celebrating the breaking of the annual Ramadan fast; and Eid Al-Adha, celebrating the pilgrimage to Makkah. Saudi Arabia follows the Islamic calendar, which is based upon lunar cycles. Thus the year is 354 days long. Friday is the weekly day of rest and worship.

Government

The Custodian of the Two Holy Mosques King Fahd Bin Abdul Aziz is the Head of State and Prime Minister, assisted by an appointed Council of Ministers. All Saudi Arabians have the right of direct petition to the monarch, the regional governors or other government officials. These petitions are most often received during the regular public audiences (Majlis).

Economy

The Saudi Arabian economy has shown unprecedented growth during the past two decades. The gross domestic product (GDP) reached SR 440.1 billion ($117.36 billion) in 1994.

World Role

Saudi Arabia is a founding member of the Gulf Cooperation Council (GCC), the United Nations, League of Arab States, Organisation of the Islamic Conference, the Organisation of Arab Petroleum Exporting Countries, the Organisation of Petroleum Exporting Countries (OPEC) and numerous other international organisations. The Kingdom is a substantial contributor to the World Bank and the International Monetary Fund. Saudi Arabia is a major provider of aid to developing countries. The Kingdom's ratio of development assistance to gross national product (GNP) is the highest in the world, averaging 5.5 percent, and Saudi Arabia ranks second after the U.S. in overall assistance.