Information for Businesses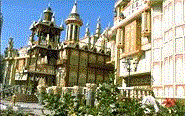 Humane Heritage Museum, Jeddah.

Opportunities:
The Government aims to guide the deployment of private resources rather than making industrial investments directly itself, except in a small number of cases where the investmnet needs are very large and the risks high.
Government agencies will continue to perform their role of attracting more private sector investment into manufacturing. The Royal Commision for Jubail and Yanbu will also acquaint potential investors, both domestic and foreign, with opportunities in both cities.

Banking:
Commercial banking has undergone tremendous growth during the course of the country's development. Total assets of the banking system increased from less than SR 2.5 billion in 1971 to SR 323.9 billion (some Ł60 billion Sterling) at the end of the third quater of 1995, while the number of branches of the 12 commercial banks grew from 65 to more than 1,160.
The rapid expansion of deposits has allowed the banking system to take on a leading role in marshalling Saudi financial resources to fund the expanding activities of the private sector.

Trade:
Saudi Arabia is the 20th largest exporter and the 20th largest import market in the world. Exports, which have increased tenfold during the two decades before 1994/5 to SR 157.8 billion (Ł30 billion Sterling), now represent all economic sectors.