The Ministries of the Government of Saudi Arabia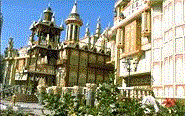 Humane Heritage Museum, Jeddah.
The Council of Ministers was established by King Abdulaziz bin Abdulrahman Al-Saud in 1953. It consists of the King who is the Prime Minister, the Crown Prince who is Deputy Prime Minister, the Second Deputy Prime Minister and Cabinet ministers. Under the bylaws announced by the Custodian of the Two Holy Mosques King Fahd bin Abdulaziz Al-Saud in September 1993, the Council is responsible for drafting and overseeing the implementation of the internal, external, financial, economic, educational and defense policies, and general affairs of the state. The Council meets weekly and is presided over by the King or one of his deputies.
On April 30, 2003, King Fahd issued Royal Decrees renaming a number of ministries, and dissolving two of them, effective May 3, 2003, to give a cabinet of 21 ministers with portfolio and 5 ministers of state in addition to himself as Prime Minister and Crown Prince Abdullah as Deputy Prime Minister.
Previous changes are:
On July 16, 2001, the Council of Ministers resolved to divide the Ministry of Agriculture and Water, and create a 23rd ministry; the new Minister was named on September 16, 2002, and the Ministry of Water came into effect on that date.
On June 16, 1999, royal decrees made changes in the cabinet, and created a 22nd ministry, the Ministry of Civil Service.
On August 2, 1995, King Fahd issued a Royal Decree dissolving the Council of Ministers and announcing the names of Ministers in the new Cabinet under his chairmanship.
Telephone codes for major cities in the Kingdom are: Riyadh (1); Jeddah, Makkah, Taif (2); Dammam, Dhahran, Jubail, Hofuf (3); Yanbu, Tabuk, Madinah (4); Hail, Qaseem (6); Abha, Najran (7).

King and Prime Minister
Custodian of the Two Holy Mosques
King Fahd Bin Abdulaziz Al-Saud Riyadh, Royal Court
Tel: 488-2222
Jeddah Tel: 665-4233
Taif Tel: 736-5200
Makkah Tel: 823-4111
Madinah Tel: 857-2500

Crown Prince, Deputy Prime Minister & Commander of the National Guard
H.R.H. Prince Abdullah Bin Abdul Aziz Al-Saud Riyadh:
Royal Court
Tel: 491-5400

Second Deputy Prime Minister, Minister of Defense and Aviation & Inspector General
H.R.H. Prince Sultan Bin Abdul Aziz Al-Saud Riyadh: Tel: 402-4600 or 402-4277

Ministry of Agriculture
Airport Road, Riyadh 11195
Dr. Fahd bin Abdulrahman Balghanaim
Tel : 401-6666
Fax : 403-1415
Jeddah Office Tel: 687-6022 e-mail: infodc@agrwat.gov.sa website: http://www.agrwat.gov.sa Manages the implementation of economic plans and programs for agriculture and water development, desalination, irrigation, locust control, and the conservation of water, fisheries and animal resources.

Ministry of Civil Service
Washem Street, PO Box 18367, Riyadh 11114
Muhammed bin Ali Al-Fayez Tel : 402-6900/402-6934
Fax : 403-4998
Staffing policies throughout the public services. Staff recruitment and training programs.

Ministry of Commerce and Industry
Dr. Hashim Bin Abdullah Bin Hashim Al-Yamani PO Box 1774
Airport Road, Riyadh 11162
Tel : 401-2220/401-4708
Fax : 403-8421
Jeddah Office Tel: 687-3400
The Ministry of Commerce and Industry was established in 2003 in the government reorganisation and is responsible for all aspects of commercial and industrial activity in the Kingdom.

Ministry of Communications and Information Technology
Muhammad bin Jameel Mulla Intercontinental Road, Riyadh 11112
Tel : 463-7225
Fax : 405-2310
Jeddah Office Tel: 665-1323
Develops and maintains telecommunications and postal services.


Ministry of Defense and Aviation
H.R.H. Prince Sultan Bin Abdul Aziz Al-Saud Airport Road, Riyadh 11165